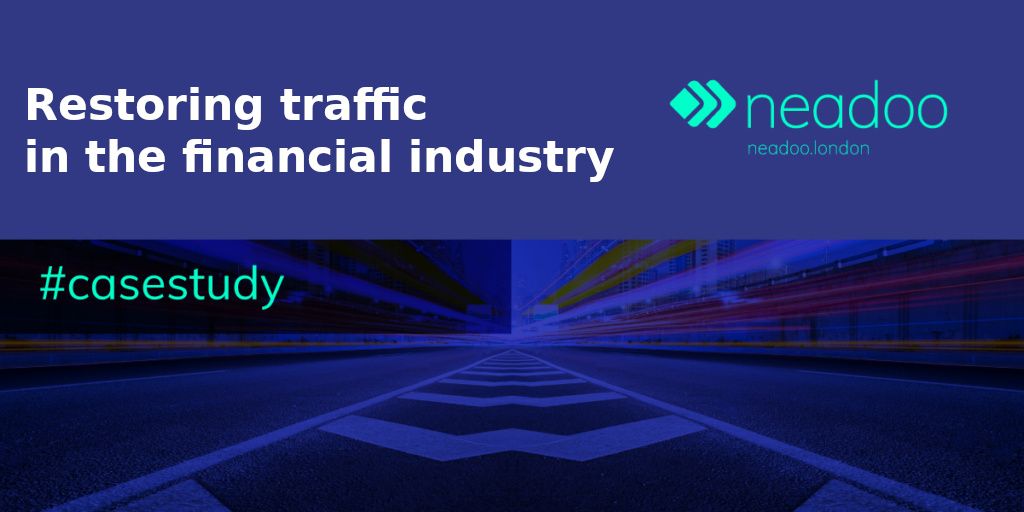 Restoring traffic in the financial industry
In this post, we will try to outline our achievement of restoring traffic levels after a total loss of position.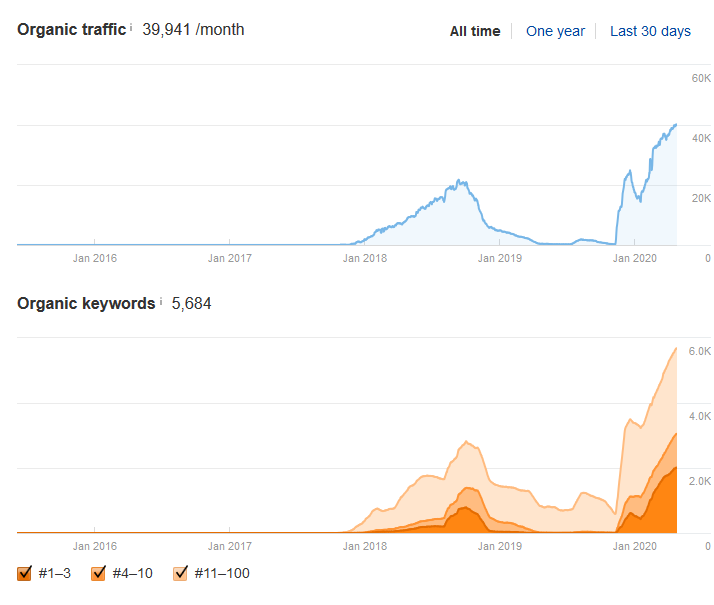 Want to restore lost traffic?
Want to recover from a Google algorithm update?
Want a professional team to get your site back on track?
In this example, the client decided to work with our company in April 2019, at the time when the generated organic traffic was practically close to zero.
While analyzing this type of case, it is good to start by checking the history of the search engine algorithms updates, e.g., moz.com, searchenginejournal.com, etc. When comparing data, it is worth taking the location into account as well, because larger algorithm updates can take months to roll out across specific data centers. Nowadays, smaller and bigger updates happen almost weekly, so it may be a good idea to follow the reports on seroundtable.com, official information can also be found on the official Google profile on Twitter.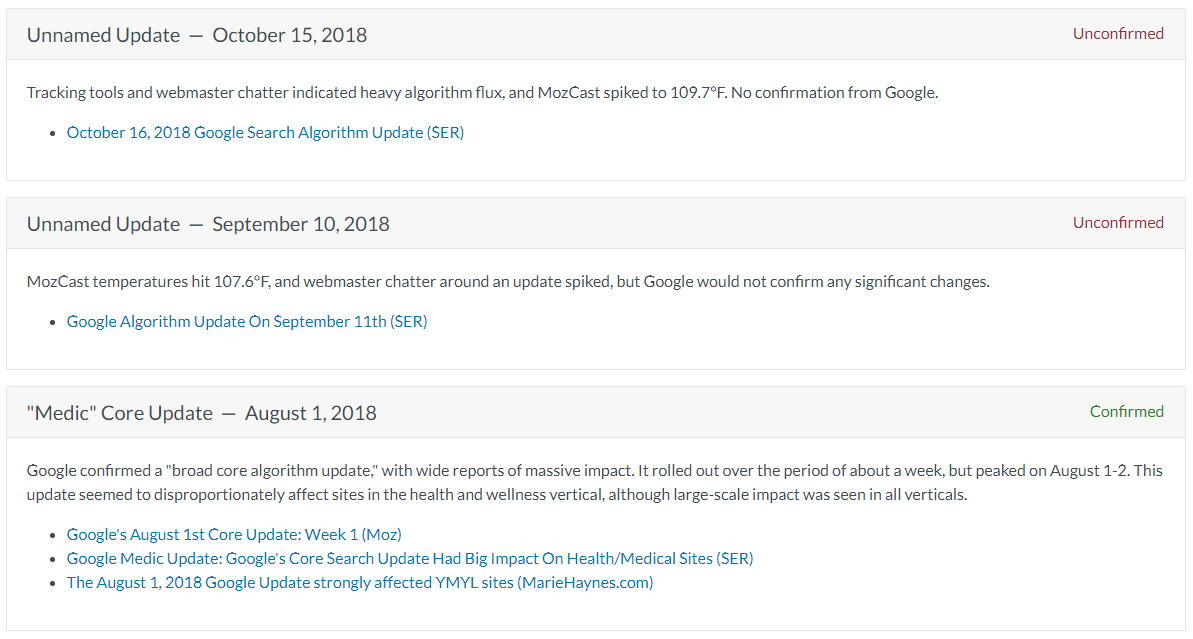 The analyzed website experienced the biggest drop at the beginning of October, which could have been the outcome of the August 2018 update that affected YMYL (Your money your life) websites.

TIP
If you notice bigger or smaller drops, and the adopted strategy doesn't include any harmful actions, it is better to refrain from making any major modifications to the website. Some of the changes in the algorithm may be adjusted within a few weeks. That's why it may be a good idea to analyze your site, but if you don't notice any serious problems and you find lower quality websites in the top 10, you can quietly count on returning to your previous position.
The analysis of the competition did not show any major drops in the domains that have so far been direct competitors of our client. Assuming that we know what might have caused the drops, we have prepared a strategy that gradually excluded any factors that might have resulted in the filter being imposed on the site.
Comprehensive link audit and disavow file preparation

Technical audit of the website

Content analysis and correction

Link profile optimization
Link audit and disavow preparation
This audit allowed us to get to know the domain's current profile. Taking into account DR, anchors, traffic, and, more importantly, the subject matter of the domains, we have prepared a dedicated disavow file containing about 10% of the domains linking to the client's website.
During the analysis, we also noticed a fairly fast link growth, where we could see a 400% link growth within 5 months. In this case, they were thematically related domains with high DR. However, our attention was drawn to entries marked as sponsored articles, which could point to unnaturally acquired links.

Due to a possible algorithmic penalty connected to an unnatural link profile, we decided to change and redirect some of the most suspicious URLs. Such a filter can be helpful in critical situations.
Technical audit of the website
Here, we tried to eliminate all possible mistakes that were made during the development and further actions on the website. We were most suspicious of errors in the implementation of the aggregate rating, which is the structural data that allow the star rating to be displayed in the SERPs as in the following screenshot. Incorrect implementation of such elements may result in a filter and loss of the achieved positions. If you decide to implement this type of solution, do it in the most natural way possible by using structural data matching the website type. In the case of reviews of, e.g., loan companies, you can use the review scheme, in which you can even point to the author, and, in this way, build their authority.

Content analysis
After analyzing the content on subpages that previously did very well in the results, we decided to naturalize some texts by removing the excessive number of phrases, often used in their target form, from them. Nowadays, a very helpful tool – Surferseo.com – is available that will compare your competitors in terms of length, saturation, and many other elements.
Link profile optimization
Since the current link profile was mostly based on sponsored articles that were purchased by the client, we decided to naturalize the links to adjust the profile to more natural proportions of exact and partial matches as well as brand references. According to our estimates, 40% of the anchors and URLs used in the acquired articles should be changed.
We have automated contact with domain owners by using a dedicated crawl, which allowed us to extract contact addresses from most domains. The first message was based on a dedicated template containing the domain name, request, and anchor and URL we wanted to change.
Eventually, in a few weeks, we were able to achieve 70% effectiveness in the intended link change.
Our efforts yielded first results in November of 2019 after almost 7 months of intensive work.


As you can see in the screenshots below, day by day, the subsequent subpages were gaining positions lost over a year earlier, jumping from position 19-20 directly to positions 1-3.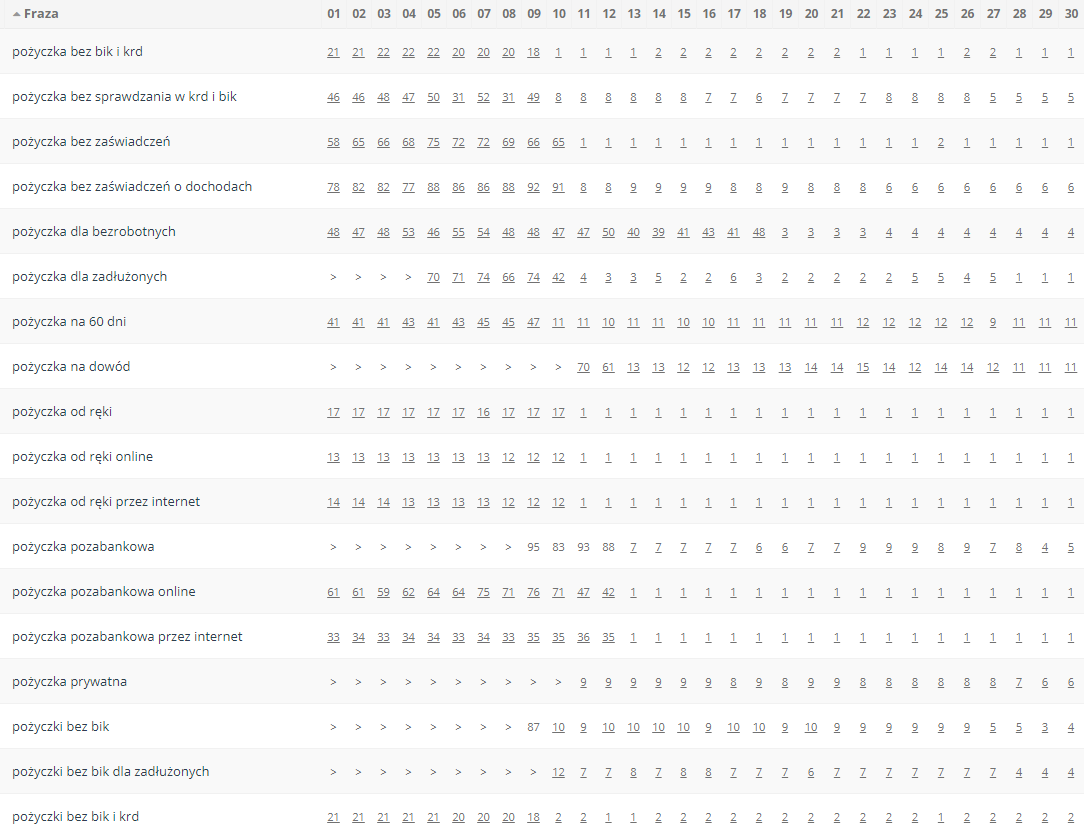 At the turn of November and December, it was possible to fully recover lost positions while recording further increases and generating traffic from subsequent phrases.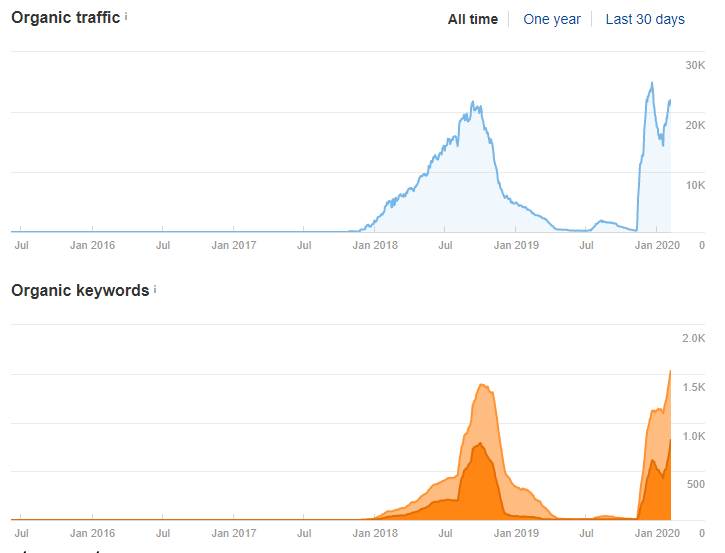 TL;DR
If you're facing drops, don't panic – check out the information about possible algorithm changes, re-audit your site in search of possible errors and observe your competitors' movements in search results. Analyzing your actions and fixing errors that you've made before (it's possible that a given technique used to produce results, but now it's best to focus on the most natural ways of positioning your site) can produce great results even after your site has been excluded from top positions for over a year.
It is worth remembering that if you stick to a well-planned strategy based on improving your site, you should not worry about sudden drops. If websites of a lower quality are ahead of you, the change of algorithm may be reversed, and you can regain your previous positions.
Want to restore lost traffic?
Want to recover from a Google algorithm update?
Want a professional team to get your site back on track?