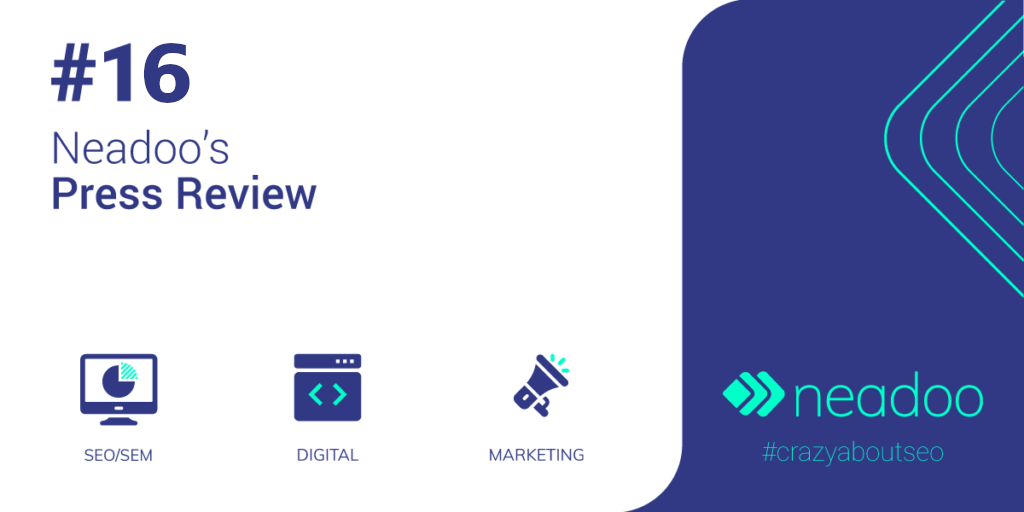 SEO Press Review #16
This weeks press review focuses on a few studies that help you get a broader view of SEO – there are a lot of useful articles here that will help you diversify and optimize your strategy.
1. Tips and Tricks to Use to Get the Most Out of Page Speed
There's almost nothing more important than page speed to a website's ranking on Google's Result Page – Google uses a few advanced algorithms to gauge the speed and responsivity of your website, and this acts as a factor by which Google determines the quality of your website. This article gives you an in-depth view of what Google looks for in your page, and how you can optimize your website to not only load quicker for your end users but rank higher.
Read More: The power of page speed: Practical tips and tools to speed up your site [searchenginewatch.com]
2. Google is Changing How They Match Keywords: Learn How to Prepare for It
Google is rolling out a big update for its Google Ads platform – it'll allow close variants and synonyms of your keyword to be matched during your ad campaign. This is a significant development that will influence your campaigns substantially, and you need to prepare for it appropriately. This article gives you a great overview of what'll probably happen once the update is out and how you can prepare for it.
Read more: Do These 3 Things Before Google Changes How Keyword Match Types Work [searchenginejournal.com]
3. Learn How to Use Google PageSpeed to Improve Your Ranking
Google PageSpeed is the primary way of learning about how Google analyzes your page internally, and it gives you a ton of actionable tips you can use to improve your website and optimize the loading times. Sadly, the tips aren't always clear and the tool can be pretty hard to use. This article gives you an awesome primer on the inner details of PageSpeed and how you can get the most out of it.
Read more: How Google PageSpeed Works: Improve Your Score and Search Engine Ranking [css-tricks.com]
4. Employ These 7 Marketing Strategies That Actually Work
Reading online articles and tutorials, you could walk away more confused about how to approach SEO than more informed. There are a lot of contradictory advice and sifting through what's real and what's clickbait requires skill and experience. This article attempts to bypass all that by presenting 7 strategies that almost everyone agrees are highly successful. While none of these strategies is particularly a secret, it is still a great start for people who want to start building an arsenal for their online campaigns that is sure to be successful.
Read more: 7 Digital Marketing Strategies That Actually Work [ahrefs.com]
5. Learn How to Use These Two Behavioural Levels to Optimize Link Building
Link building is one of the central activities of a successful SEO campaign, and according to many, one of the hardest. This problem is exasperated by the fact it is extremely hard to get accurate information and strategies that actually work. Well, this article by SearchEngineWatch tries to fix that by delivering a data-driven analysis of two methods that increases the effectiveness of link building help you build a successful campaign.
Read more: Two Simple Behavioural Levers to Improve Your Link Building Efforts [searchenginewatch.com]
6. Learn How to Effectively Employ SEO Meta Tags With This Ultimate Guide
When SEO was just starting out, meta tags were simple HTML code that was just used to communicate basic information about the website to the search engine crawlers. Over time, however, meta tags have become much more prominent – now, they are used to determine the type of your website, products, how to display your pages when you're featured, etc. Now, more than ever, it is paramount to learn all about meta tags and its different applications, and this article is just the thing that'll help you do that.
Read more: The Ultimate Guide to SEO Meta Tags [moz.com]
7. Things You're Missing Out On By Not Optimizing for Google Images
Research shows that almost all online shoppers look at photos of a product before buying it, and this isn't surprising. But what's surprising is that Google Images helps drive traffic to a lot of products and increase sales, and while a lot of Ad campaigns focus on a website's position on the 'all' section, it might be worthwhile and more strategic to try to reach higher ranks in the 'images' section. This article lays out how much you're missing out by not optimizing for Google Images and what you can do to ameliorate that in your search engine strategy.
Read more: The Hidden Opportunity for Ecommerce Websites in Google Images [searchenginejournal.com]
8. Google Launches a New Algorithm to Better Curate "Featured Snippets"
Google has officially announced they've launched a new algorithm to curate the information they provide through their 'featured snippet,' which is commonly referred to as position 0 by SEOs. It's one of the most important positions as it is displayed largely and clearly at the centre of the page, and successfully aiming for it will drive organic growth to new levels. This article helps you understand the implications of this algorithm and how you can deal with it.
Read more: Google launches a new algorithm to better understand useful & timely information [searchengineland.com]
9. Topic Clusters: What are They and Why Can They be Game Changers?
In the old days of SEO, search engines had very limited capacity to analyze the content you've written – they wouldn't check the quality of the writing, the topic, the keywords, and the grammar. However, these have all changed and search engines frequently do deep analyses of the content to ensure they rank the best content first. One of the things they look for is the topics the article cover and how related they are to the website in large and the keywords. That's why topic clusters (a collection of articles on a connected topic) have become extremely popular and useful for SEO campaigns. This article enumerates the ways topic clusters can help your campaign become more effective.
Read more: Why (& How) Topic Clusters Are Your Most Powerful SEO Weapon [searchenginejournal.com]
Conclusion
We hope you enjoyed the press review – while it is important to keep up with news stories, it is important to write long and detailed guides once a week, and we're dedicated to bringing those to your attention every week.