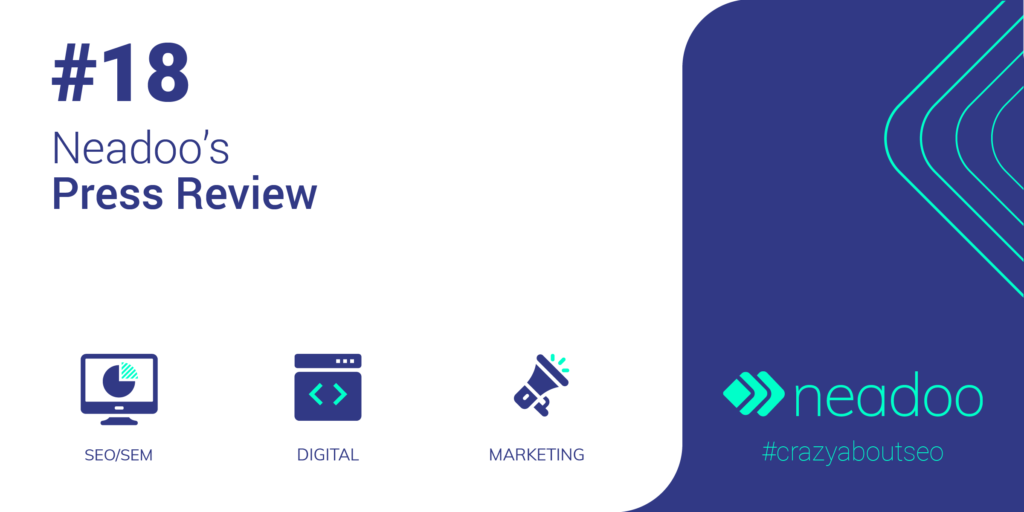 SEO Press Review #18
This week's press review tackles some of the developments we are seeing in the SEO world – while it is important to keep specific strategies in mind, we mustn't lose sight of the bigger picture. A few selected articles this week will help you see some of the future trends we might have to deal with.
1. Did You Know You Can Rent the Top Positions in Local SERPs?
There's an exciting new and lucrative business model that's gaining momentum in the SEO community. It is a technique called "ranking and renting," and it could be something that revolutionizes the whole industry. In this model, the SEO agency does market research for a local area and finds which sectors it can rank for, and it creates a generic website ranking for those keywords. After the agency has made the website rank for two dozen impressive local keywords, they then will approach local businesses and offer to rent the website and keywords to them. There are some odds and ends that need to be polished about the strategy, but there are already agencies that make money using this strategy, and you should definitely look into it.
Read more: Top Ranking in Google Local Can Be Rented [www.searchenginejournal.com]
2. Learn How to Start Correctly Link Building
Links are the primary way of making your website rise in SERP ranks, and it is a cornerstone of SEO that every marketer should be deeply familiar with. The problem is that most people when doing SEO move on to more complex strategies and forget about the basics, this article is a quick way to brush up on those and remind yourself how important is link building.
Read more: How to Get Started Building Links for SEO [moz.com]
3. WordPress is Changing Rapidly, and This Means a Lot for SEOs
It's been eight months since the Gutenberg update was released for WordPress – it introduced a new editor that streamlined the creation and editing of websites. This marks a renaissance for WordPress, as the company is trying to grapple with all the new developments happening in the web development world. For the last few years, most people have considered WordPress an old and dying platform, and this is their chance to change that perception by introducing a lot of new features and fundamentally restructuring the platform.
Read more: The (Upcoming) WordPress Renaissance [smashingmagazine.com]
4. Voice Searches are the Future – Learn How to Optimize for Them
You won't be surprised to learn that the volume of voice searches is increasing exponentially – smart devices like Alexa virtually penetrated every house and have made voice searches extremely popular. That's why you need to take it into consideration and come up with tactics that will help you rank higher when people search using voice. This article shows you 7 easy ways of getting started with optimizing your websites and getting better organic results.
Read more: Voice Search Optimization: 7 Ready-to-Use SEO Strategies to Rank Better [semrush.com]
5. Fonts Affect a lot of Aspects of Your Website, Learn How to Choose One Correctly
Choosing the right font for your website is something people rarely think about, but it is more important than you might think. The fonts you select won't only affect how your website looks and feels to potential users, but it also determines how easily readable is the content on your website. Since the number of time users spends on each page is a positive ranking signal for Google – at the end, choosing the correct font might even help you rank higher. This article takes you through all the important steps needed for selecting a good font and keeping the advice in mind when you design your website will surely improve how it looks.
Read more: How to Choose the Right Font for Your Website [qodeinteractive.com]
6. Do You Need a Personal Website For Your Freelance Work?
If you were starting out as a freelance designer or content marketer, it was indispensable to have your very own website. It was a simple way of showcasing the projects you were most proud of and having a professional outlet people could find you through. But, is it as necessary to have a personal website now? We do most of our activities on social media, anyways – we upload our designs there, interact with people there, and even advertise there. Social media could possibly replace traditional professional websites.
Read more: Design Debate: In the Age of Social Media Self-Promotion, Do Creatives Still Need Personal Websites? [99u.adobe.com]
7. How To Use Paid Advertisement to Increase Organic Traffic
Increasing your organic traffic by paid advertizement isn't an easy task. Most marketers don't usually take paid campaigns into account – rather, they think that organic link building and content creation are the only viable long-term approaches. While there is some truth to that, and organic traffic does last longer than PPC advertising, we mustn't underestimate the boost from PCC. Most data shows that paying for advertisement early on can result in much more beneficial outputs later. This article discusses the process and the implications of implementing such a strategy.
Read more: How to use PPC data to drive more SEO traffic [searchenginewatch.com]
8. Half of the People Who Search On Google don't Click on Any Website
A new study finds that around 50% of the searches conducted on Google doesn't lead to a click to another website – this means that the user who conducted the search finds all the information he needs on Google's Search Engine Result Page and doesn't feel the need to click on further websites. This is a direct result of Google offering richer snippets and more information directly on its SERP, and the study shows that if you want to increase your organic traffic and name recognition in the future, you should be paying more and more attention to them.
Read more: Now, more than 50% of Google searches end without a click to other content, study finds [searchengineland.com]
Conclusion
This concludes this week's press review – two stories you must definitely keep track of are the updates that WordPress is going through and the increased traffic that Google keeps on its website instead of generating organic traffic for the search results. WordPress is the most popular web development platform, and Google has a virtual monopoly on internet searching – these changes could affect marketers to a great extent.