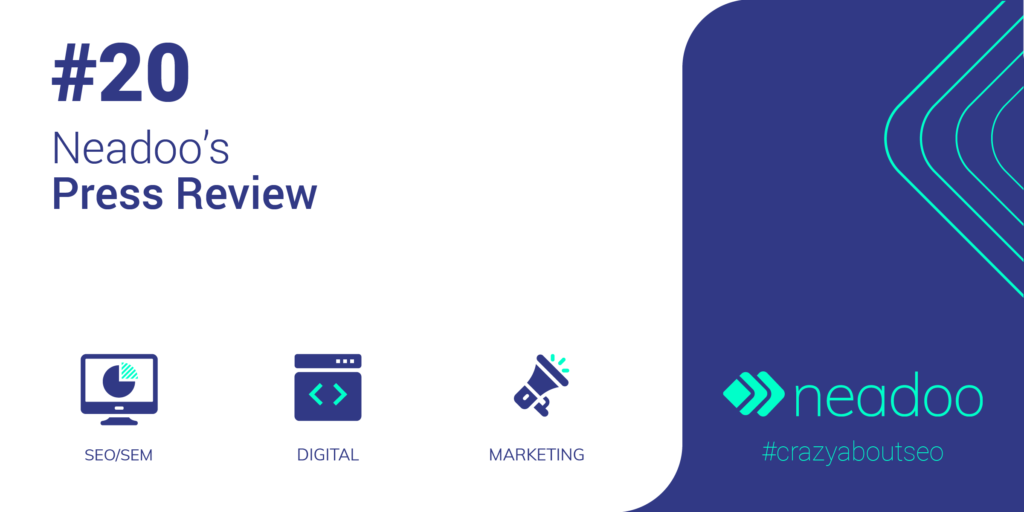 SEO Press Review #20
Welcome to this week's press review – we are going to look at a few niche areas that SEOs often forget about. You'll learn how to effectively use local SEO, you'll find out how useful Amazon is for e-commerce SEO, and you'll find news on the exciting new tags that complement "nofollow".
Evolving "nofollow" – new ways to identify the nature of links
The 'nofollow' tag was first introduced to prevent people from linking to their websites in the comment section and abusing search algorithms – but, since then, the internet has changed a lot, and with changing patterns and technologies, people need new tags to better present their website to search bots. That's why Google is presenting two new tags that will allow you to designate links as either user-generated content or sponsorships, which means more control over how you present your content to bots.
Read more: Evolving "nofollow" – new ways to identify the nature of links [googleblog.com]
How to Organize Your Website's Structure for Better Ranking
One thing that site developers don't give it a lot of thought is how the content is going to be structured – the fact is that most people think if they put out enough content and adhere to some SEO guidelines when writing the title and the metadata, the website will eventually raise in the ranks, but this isn't necessarily the most efficient way of doing things. The way you structure the content, the links between the pieces, and the presentation isn't only an important way of presenting more content for the user, but it also increases SEO rankings, if you do it correctly.
Read more: How to Use Information Architecture & Linking Hierarchy for Better SEO [searchenginejournal.com]
Amazon: The Search Engine You Often Forget About
Do you know that Amazon is rivaling Google as a search engine for e-commerce products? Amazon is available in tens of countries and makes buying products and reviewing them a simple matter of a few clicks. As competition becomes more fierce on Google and keywords get harder and harder to rank for, it is important to consider the alternatives. It is likely that, in some instances, devoting time for Amazon SEO would be much more effective than Google's.
Read more: Amazon vs. Google: Decoding the World's Largest E-commerce Search Engine [moz.com]
Did Google Update Its Search Algorithm Stealthily Again?
It s really hard to keep up with Google's algorithm updates because most of them go unannounced and you'll learn a few weeks later when your ranking gets hit. That's why it is important to be on top of the news and frequently check SEO related blogs for any chatter relating to an update. Although things aren't conclusive, it seems that there has been an update on the 4th and the 5th, and there are more than two dozen SEOs talking about how their rankings have changed.
Read more: Google Search Ranking Algorithm Update On September 4th & 5th? [seroundtable.com]
Learn How to Come Up with Effective Branding with These Ten Excellent Websites
In today's world, the one thing that matters the most about a business is its brand. People are too busy to research products most often, and they'll buy the first one they lay their eyes on if it comes from a brand they recognize and trust. One of the only ways that you can ensure your brand gets traction and consumers don't forget about you is by coming up with innovative and detailed logos. The logo will be on your website, mobile app, ads, and if it is catchy, people will automatically start recognizing it. This website gives you ten excellent websites you can visit to get inspired, mix and match designs, and come up with something truly unique.
Read more: 10 great websites to find logo design inspiration [canva.com]
A Beginner's Guide To SEO
Do you have your own project and have been looking for an effective way of optimizing your website's SEO? Do you regularly enjoy our press reviews but fear you don't have a solid foundation to get the most out of it? Well, this article is just for you. Joshua, a highly qualified SEO, is going to take you on a journey from the very basics of SEO and will go over all the core concepts helping you with graphics and videos along the way.
Read more: What is SEO? How to Optimize for Search Engines Like Google [ahrefs.com]
A Data-Driven Approach to Click-through Rates
Click-through-rates are vital for your SEO strategy – learning what drives more clicks and therefore more traffic, learning what's the clickthrough rate for each organic position, seeing the effect of ranking in the second SERP, etc. are all vital. With these, you can come up with titles, meta descriptions, and content that will increase the organic traffic coming to your website. This amazing research has sifted through more than 5 million search queries and analyzed the data from them, and the results might surprise you.
Read more: Here's What We Learned About Organic Click-Through Rate [backlinko.com]
How to Rank Locally? How Is It Different From Normal SEO?
If you've spent any time researching SEO, you've probably heard about the fact that Google treats local and international searches differently. Local searches usually include restaurants, cafes, shops, etc. and the algorithm highly prioritizes locations near the user. Proximity is a very big ranking factor when it comes to local SEO, and you should learn how to use it – the same generic tactics used with organic SEO will be effective, but their effects will be limited, and this article informs you of a few more targeted strategies that make your local business rank at the top.
Read more: How Does the Local Algorithm Work? – Whiteboard Friday [moz.com]
Google My Business Reviews are Becoming Exceedingly Important
The volume of local searches is increasing much more rapidly than the volume of searches in general – most people expect more and more local results thanks to the availability of everything on the internet. One way Google makes sure to offer good companies and services to its users is by utilizing the ratings on the review page. It is an extremely important signal that Google uses to tell how trustworthy is a company/service. This article dives deep into the mechanics behind the reviews and how much they affect you.
Read more: How improved Google ratings impact conversions [searchenginewatch.com]
How to Sell Your Products? Learn 5 Ways You Can Improve a Product's Page
Product pages are the bedrock of every business – effective and stylish product pages are what drive sales and increase your company's revenue. No matter how much organic traffic the other parts of your website get, if the product pages aren't attractive to potential customers, you'll see low sales figures. That's why it is vital for you to take an in-depth and systematic look into the design choices and broader appeal of the pages. Thankfully, you don't have to do it all alone – this great article helps you identify the most important elements and ensure you get it right.
Read more: Product page SEO: 5 things to improve [yoast.com]
Conclusion
This ends the press review – using the articles listed to optimize your product pages, come up with an excellent logo, and effectively target local SEO might be a trifecta of awesome that will finally make your local business survive and thrive.