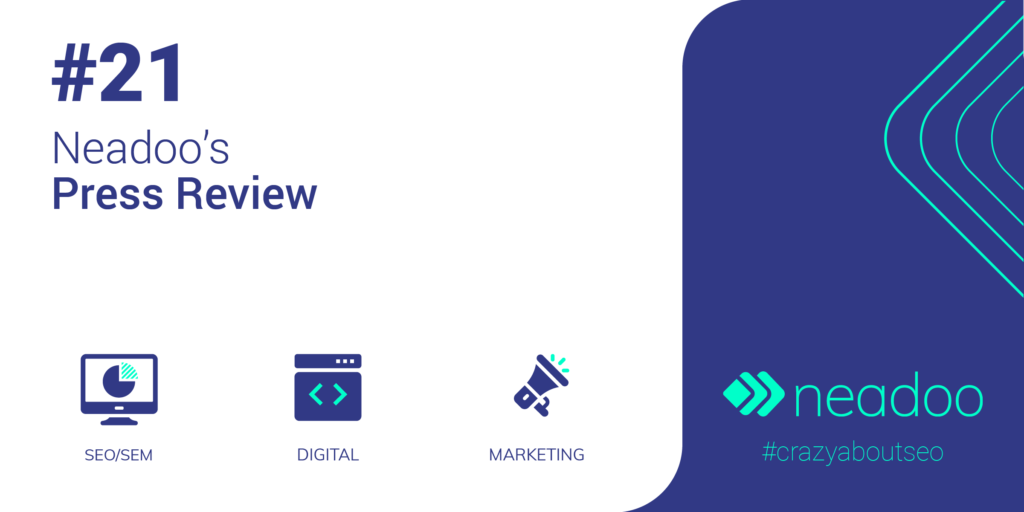 SEO Press Review #21
In this week's press review, we've decided to collect various articles from all over the web to help you manage your SEO company more effectively. From effectively integrating your SEO and web developing teams to more effectively handling site migrations. There are a lot of strategies you can learn about here that help you with your day-to-day tasks.
How to Create an XML Sitemap (and Submit It to Google)
A sitemap is an XML file that contains the structure of your website and links to all the relevant pieces of content that you want search engines to index. Complex websites can be extremely difficult to navigate for crawlers, and without this XML file, they'll miss some pieces of content and fail to index it. This means that people won't be able to find that content when they search on that particular search engine. As you can guess, this is extremely detrimental to your organic traffic, and you need to make sure you provide an XML file to Google and other relevant search engines. This comprehensive tutorial will take you through the process step by step.
Read more: How to Create an XML Sitemap (and Submit It to Google) [ahrefs.com]
New Opportunities for Image SEO: How to Leverage Machine Vision for Strategic Wins
In 2018 with one small change Google increased organic traffic from images by more than 30%. Removing the view image option and forcing users to go to the website the image is hosted on has been hugely beneficial for the websites that learned to capitalize on it quickly. Optimizing your images and doing image SEO has never been more profitable. This article talks about these changes, their full effects, and how you can effectively capitalize on them and drive organic traffic to your website.
Read more: New Opportunities for Image SEO: How to Leverage Machine Vision for Strategic Wins [moz.com]
Building More Accessible Websites with WordPress
Making a website accessible means designing it in such a way that it's accessible for people with hearing and vision disabilities. It is not only morally right and required by law in most countries, but it is also an important SEO ranking factor. Websites that are more accessible rank higher on search engines. Thankfully, a lot of web developing platforms help you with implementing accessibility, the primary of which is WordPress. Learn how to use built-in functions to develop a highly accessible WordPress website with this article.
Read more: Building More Accessible Websites with WordPress [1stwebdesigner.com]
A Guide to On-Page SEO for Ecommerce Websites
On-page SEO is extremely important for e-commerce websites. There are two things that determine an e-commerce website's success:
How many people visit the website organically.
How many people decide to buy something when visiting.
You can increase both by optimizing the website for both crawlers and people. This means following the SEO conventions, making the website more accessible, making the product pages look trustworthy and informative, etc. The things you can do to improve are numerous, and you can find some successful strategies to implement in your e-commerce platform by reading this article.
Read more: A Guide to On-Page SEO for Ecommerce Websites [searchenginejournal.com]
Catching SEO errors during development using automated tests
For a long time, the SEO aspects and the web development aspects of a website have been separate with separate teams taking care of each. This has caused a lot of inefficiencies as the two teams need to sync and communicate to not step on each others' toes. Thankfully, due to automated testing, now, you can create automatic checks that ensure you're following the best SEO guidelines as you're developing the website. This speeds up the process greatly and saves your company a ton of money and time.
Read more: Catching SEO Errors During Development Using Automated Tests [searchengineland.com]
What is a slug and how to optimize it?
A slug is the part of the URL that's unique and points to a specific piece of content. Slugs are customizable and most content managers let you set a specific slug when you're creating new content. Most SEOs don't know this, but the slug has a direct effect on your ranking in search engines, and there are some strategies you can use to come up with effective and attractive slugs that make people click on the content.
Read more: What is a Slug and How to Optimize It? [yoast.com]
10 Link Building Lies You Must Ignore
Link building is one of the most important jobs of an SEO campaign, and if you want to effectively raise the ranks of a website, you need a strategy that works. One of the biggest problems preventing SEOs from doing that is the amount of misinformation and disinformation out there about the topic. Because it is so important and SEOs care about the topic, a lot of people write wrong and baseless things about link building just so they generate clicks. This article dispels ten of the most common myths around link building and helps you manage your campaigns successfully.
Read more: 10 Link Building Lies You Must Ignore [moz.com]
How changing domains challenge SEO
Changing domains is a relatively common practice when you're running a website. Whether you want to rebrand your website, change the URL to be more relevant, have a fresh start, etc., changing domains isn't a bad strategy. One thing that hurts you the most when changing platforms, however, is SEO rankings. Your organic traffic will suffer a lot, and your contents' rankings on search engines will take a hit. That's why you need a comprehensive strategy to effectively migrate the website, change the domain, and keep as much SEO juice as possible.
Read more: How Changing Domains Challenge SEO [searchenginewatch.com]
Conclusion
This ends this week's press review – we hope you enjoyed this week's selection of news stories.