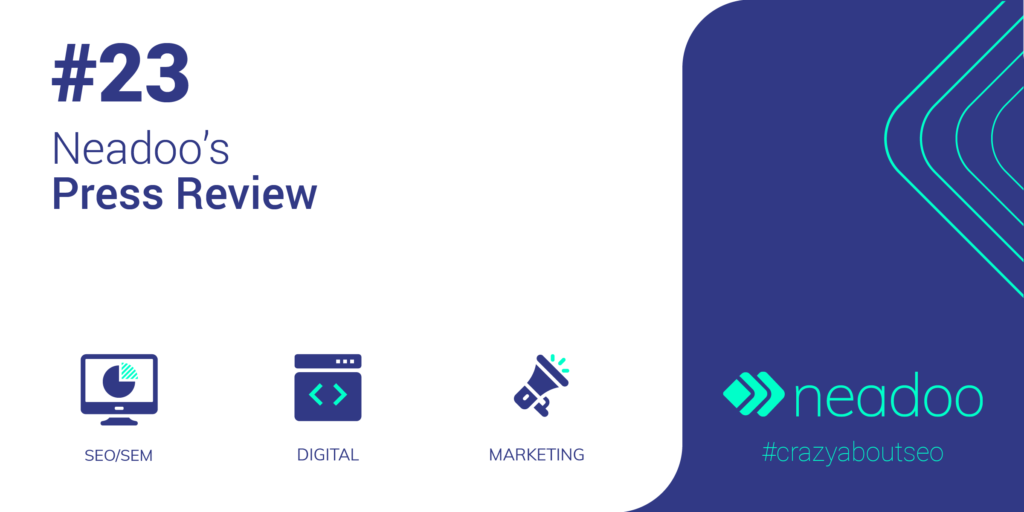 SEO Press Review #23
One of the main focuses of this week's press review is the ways you can make your WordPress website more secure, more SEO friendly, and more stylish. As it is one of the most common platforms SEOs work with, these articles should help you become more efficient.
XPaths, What are They and How Can You Use Them?
Site audits are an important part of an SEO agency's job. Each month, we get clients from all corners of the world with idiosyncratic websites that have their own designs, cultures, and language embedded in it. It is important to have objective auditing criteria and don't let your biases make it to your analysis. 
XPaths is the way you can use programming languages to analyze the structure and content of a website. You can use various methods to break down the website and create a concrete and comprehensive auditing strategy. You can even create some automatic tests a la Googe PageSpeed. It is a powerful tool at your disposal. 
Read more: 3 Creative Ways XPaths Help Scale Your Site Audits [searchenginejournal.com]
A Beginners' Guide to Robots.Txt
Robots.txt is one of the most popular aspects of SEO. It is rather simple, and most web development platforms will generate it automatically for you. However, you'll almost always want to do some small changes to it manually, and a mistake then can harm your SEO to a great degree. This great beginners' guide by Ahreafs will take you through all the aspects of the Robots.txt file and help you get more out of it. 
Read more: Robots.txt and SEO: Everything You Need to Know [ahrefs.com]
Shopify: Learn How to Optimize the Most Popular E-Commerce Plugin
E-commerce has had consistent growth for more than a decade now, and the most amount of money made on the internet is from e-commerce websites. As an SEO, you'll probably have to deal with a lot of e-commerce websites on a monthly basis, and the most commonly used tool to create e-commerce websites is WordPress with the Shopify plugin. This makes it absolutely vital for you to know to optimize Shopify websites properly. Thankfully, it isn't too complicated, and this article will give you an excellent overview of the things you need to do. 
Read more: Shopify SEO: The Guide to Optimizing Shopify [moz.com]
Why A/B Testing Could Become Your Golden Ticket to SEO Success
When you're managing a web platform's SEO, it is really hard to determine what of the tweaks make the website more SEO friendly and which changes hurt your SEO. A/B testing is one of the most objective ways of measuring the impact of changes you make objectively. DistilledODN is a professional A/B testing platform specifically created for SEOs. You'll be able to change aspects of your website directly on the platform and test the effectiveness of these changes by doing A/B tests for each change. The folks at Moz tested the tool and reported their experience. It is quite an informative read. 
Read more: New SEO Experiments: A/B Split Testing Google's UGC Attribute [moz.com]
Why, When, and How Should You Use Structured Data
Structured data properties are meta-tags that will help web crawlers understand your website better and allow search engines to show rich search results with more customizability for your web pages. Almost all SEOs recommend using these rich structured data properties in your main webpages. The problem is how to implement them? Should you go by the strict Google Dev requirements or can you use independent data structures provided by sites like Schema? The webmasters at Google try to answer this question in this short video. 
Read more: Structured Data Properties (Google Developers Site vs Schema.org) [youtube.com]
Make Your WordPress Website More Secure by Defending it Against Brute-Force Attacks
Maintaining and upgrading the security of a website is oftentimes another part of a typical SEO agency's job. You need to make sure the website is protected against common attacks and is up and running efficiently.  One of the common attacks you'll need to protect the website against is brute-force attacks, which is where a malicious bot or person tries to overwhelm your website with information. This article will help you put up some countermeasures that will greatly reduce the chances of your website experiencing one. 
Read more: Defend Your WordPress Website Against Brute-Force Attacks [1stwebdesigner.com]
All You Need to Know About Page Speed
Page speed is perhaps the most important ranking factor after backlinks and site-authority. If you want your website to rank highly on Google, you need to ensure that your pages load quickly. The SEOs at Backlinko have analyzed over 5 million pages to try to ascertain the most important factors that determine the loading speed of pages. Reading through it should help you get a better idea of the things that might be hurting your website and preventing it from ranking higher. 
Read more: We Analyzed 5.2 Million Desktop and Mobile Pages, Here's What We Learned About Page Speed [backlinko.com]
Make Your WordPress Website More Stylish by Using Shortcodes
WordPress is one of the most used web development platforms on the Internet, and it is important to know how to use it to its full potential. One of the powerful advantages of WordPress is its theme-marketplace that offers hundreds of thousands of ready-made, stylish web templates that allow you to construct a usable website that's pretty to look at. One of the reasons why WordPress's theme-feature is so powerful is because they allow each theme to provide its own templates and elements that make life easier for the website coder. They are known as shortcodes, and you can easily access them by typing the commands inside brackets on WordPress. Learn how to take full advantage of them by reading this article.
Read more: What Are Shortcodes in WordPress? [qodeinteractive.com]
Conclusion
And that was the last article we had for you this week. We hope you enjoyed the articles and found something interesting in there. As always, we'd love to hear your feedback.