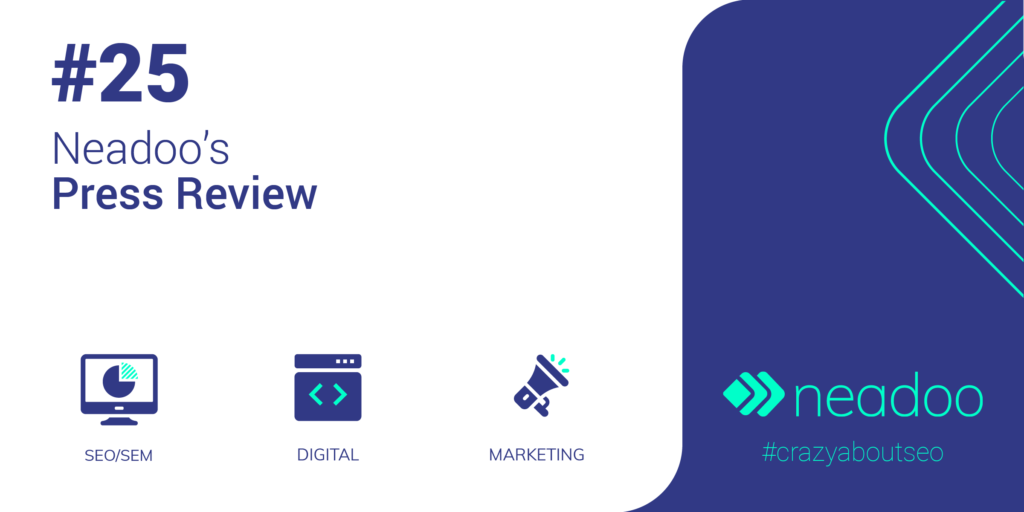 SEO Press Review #25
Welcome to this week's press review! We are focusing on important news related to a few areas this week. In particular, BERT, the newest update to Google's search engine algorithm. For people outside the data science community, they don't realize how big of a deal is BERT. It has been described as a game-changer by members of the community from the Data Skeptic podcast to actual research papers. That's why we decided to report on two news stories related to it – keep reading!
Do I Really Need to Build a Website? Google Answers
Deciding what kind of presence you want on the internet is an important business decision. Whether you want to create a professional website, just register on multiple social media platforms, or register on an e-commerce platform will determine your online marketing strategy for months to come. That's why you need to learn the advantages and disadvantages of each platform, and you have to ask yourself if a website is really necessary for what you're trying to achieve. If you can do all you need through say an email newsletter or a simple blog, you have to ask yourself whether spending the extra money on the website is justified.
Watch: Do I Need a Website? | Search for Beginners Ep 1 [youtube.com]
Image in Snippet Preview and How Yoast Can Help You
Snippet previews are an increasingly important aspect of search engines – most users like to see a snippet of your website and the featured image to get an idea of your content before clicking on it, and this is why organic traffic to a page increases substantially when Google features a snippet of it for a particular high-volume keyword. Google has changed how it displays snippets on mobile, however, and Yoast is updating its plugin to reflect those changes. Read the article to learn the significance of those changes and how Yoast can help you.
Read more: Yoast SEO 12.4: Image in Snippet Preview [yoast.com]
Why You Should Adopt the WordPress Block Editor
WordPress 5 introduced the block editor to a lot of mixed opinions from the SEO community. Some people hated it because it relied too much on graphics, others hated it because of how WordPress went about releasing it. There's, however, no doubt about the fact that the block editor is here to stay – you can expect most of the new updates, improvements, and patches to focus on this editor, and if you don't want to fall behind, you need to switch to it immediately. This detailed article from Yoast tells you all about the advantages you'll gain from switching and the things you might miss out on.
Read more: The Block Editor/Gutenberg: Why You Should Be Using It [yoast.com]
Google Makes Small Changes to Its Reports Editor
The Reports Editor is one of the main sources of information on your ad campaigns – it allows you to see most of the important pieces of information related to where your ads are placed, how many people click on them, charts of how you're fairing over time, and much much more. That's why it is important to understand what is the meaning of the data Google is showing you and not misunderstanding it. It seems Google is changing what it is showing you in the 'placements' section of the Reports Editor – although it is a minor change, it is still important to take it into consideration.
Read more: Google Ads Changes How 'Placements' Data is Displayed in Reports Editor [searchenginejournal.com]
Google Provides Custom Video Q&A Section to Some Universities
Most high school students use Google to find more about the colleges they want to apply to. They want to see the campus, see their chances of admission, and quickly figure out how much they need to pay each semester. That's why Google is trying to accommodate them by providing detailed knowledge graph cards on most of the top universities in the United States and Europe. Now, they've even rolled out a limited Q&A video section where the university staff can answer the most pressing questions about education in the facility.
Read more: Google Tests Q&A Videos in Search Results for Universities [searchenginejournal.com]
Why Many SEOs Haven't Noticed BERT
BERT is the hottest machine learning algorithm tasked with analyzing and understanding natural languages – it is already performing better than almost all the algorithms we have, and Google has recently adopted it into its search engine algorithm. This allows Google to better analyze the content, quality, and tone of your content and deliver more accurate results to users. Google said the results of 1 in 10 queries will be affected by the inclusion of the BERT algorithm. Read this detailed data-driven analysis of the BERT update to see how it is affecting your websites and how you can move forward.
Read more: Why You May Not Have Noticed the Google BERT Update [searchengineland.com]
The New York Times takes a Huge Hit From BERT
BERT is already starting to become a large player in the search optimization world. Employees from the New York Times have reported a huge drop in traffic after the update. This is very strange considering the fact that NYT articles are a pinnacle of high-quality content on the internet. There are probably a handful of websites that employees higher-quality content writers in the whole world, and this drop because BERT is inexplicable. Following this story and seeing how it'll resolve might give us more insight into the inner workings of the algorithm.
Read more: New York Times Search Ranking Drop After Google BERT Update [seroundtable.com]
A Chrome Extention that Will Make Your Life Easier
Deciding which keywords to target is one of the most important decisions of your marketing campaign: the best keywords need to be relevant, have a large search volume, and not be fiercely competed for.  It takes a lot of time and research to find keywords with all three qualities for your campaign. Thankfully, Surfer just released a Chrome extension that can make your life a lot easier. You'll be able to check search-volume and competitiveness in real-time while simply using Google to search around. It is free, you definitely should check it out.
Read more: Announcing: Keyword Surfer Extension for Chrome [surferseo.com]
Conclusion
And this concludes this week's press review. Hope you enjoyed it.