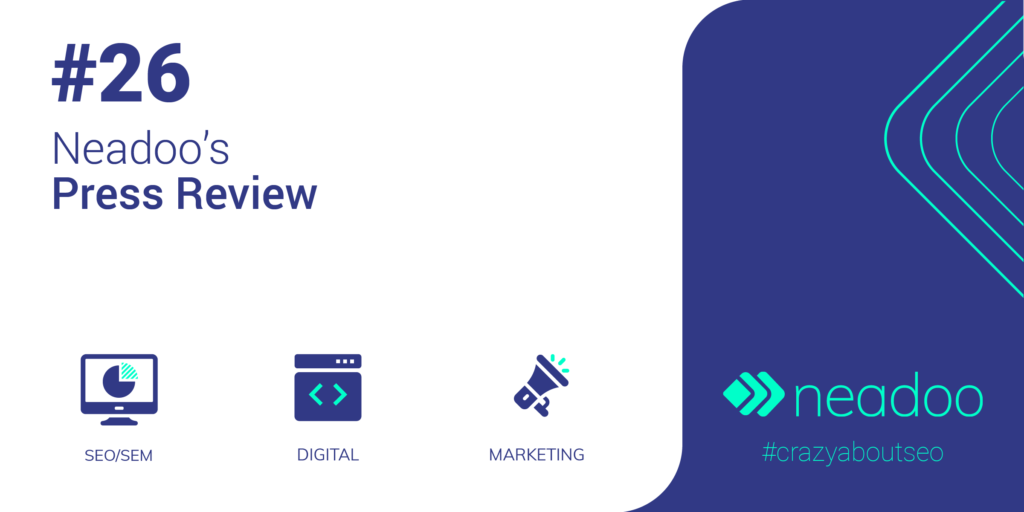 SEO Press Review #26
Welcome to this week's press review. We're starting strong with a few articles regarding what's Google been up to. This week, they released a plugin, a new feature for the Search Console, and a detailed study regarding consumer behaviour. You should definitely check them out.
Google Finally Releases Its Plugin for WordPress
Google finally released its Site Kit WordPress plugin after being in beta for 6 months. This is excellent news for SEOs and WordPress developers. The Site Kit plugin provides a one-stop-shop for all the important analytics data you need to see how your website is doing. You can see how many impressions, how many clicks, and how many users have visited each page of the website. It makes it really easy for SEO novices to get an idea on how their website is doing right on their dashboard.
Read more: Google Releases its Site Kit WordPress Plugin Out of Beta [searchenginejournal.com]
Check Out This Detailed Study Regarding Shopping Trends in the Holiday Season
What do consumers want? How to appeal to them? What's the best marketing approach? These are all questions business-minded people have asked themselves for centuries. And, now, thanks to unprecedented access to data and processing power, we might be able to objectively answer these questions. The engineers at Google have analyzed consumer behaviour in four big markets in the world (the US, India, the United Kingdom, and Brazil), what incentivizes them to buy a product, what qualities they don't care about, etc. It is an extremely interesting analysis that shows us what customers care about the most in each of those four cultures.
Read more:  Google Releases Study of 2019 Holiday Shopping Trends [searchenginejournal.com]
Now You Can Directly Look at Speed Reports in the Google Search Console
Google is rolling out a new feature for the Search Console. Now, you'll be able to immediately see how Google grades your pages' performance directly in the console. This feature has been a long time coming, and it was partially rolled out for some users months ago, but now, finally, everyone can access it. It is a nice addition to the Search Console, and it'll help you quickly browse your website's performance over time directly without using another service. It isn't anything groundbreaking, but it makes the lives of SEOs a tiny bit easier.
Read more: Google Search Console begins rolling out Speed report [searchengineland.com]
A Bug is Preventing Pictures from Showing on Food Recipes – Google is Looking into It
Recently, there was a bug reported that affected a large section of the Internet – the culinary section. The recently-introduced rich recipe-snippet wouldn't show images for the featured content. While getting a snippet from your website featured usually meant increased traffic, due to this bug, it was actually quite detrimental to get featured. The recipe blogs feature images heavily, and without those, many people won't click on them. Thankfully Google recently reported that it's reviewing the problem. If you're affected, hopefully, you'll see a fix soon.
Read more: Google Said It Is Reviewing Recipe Rich Results Bug Reports [seroundtable.com]
Google Recently Bought Fitbit but They Won't Use the Data in Search Ads
Fitbit is one of the most popular fitness apps in the world – it has more than a million users, and it has collected extensive data about them over the years. That's why a lot of people got worried when Google announced it'll buy the app for 2.1 billion dollars. Many users were worried Google will use their data for paid search Ads, so it targets the users better. However, Google has announced it has no attention of doing so, and it won't use the users' medical information to better target them with ads. Although, it is yet unclear if they are going to use the data to refine their organic search.
Read more: Google: We Won't Use Fitbit Data For Search Ads [seroundtable.com]
Product Kiosks are the Future – How to Optimize SEO for Them
ATM machines are insanely common in every economically-advanced country. It is simple economics – the cost of bank employees is far higher than constructing ATM machines. But in many parts of the world, as the demographics age and the pool of cheap labour decreases, it is getting increasingly more viable to build product kiosks instead of opening up new branches. This doesn't only include beverages but food items as well. Many businesspeople are already predicting an exponential increase in most Western nations in the near future. Google is already ahead of the curve, and it lets you register kiosks on the map. This makes people find you and your products easier.  This article is a great premier to the world of kiosks and how you can apply SEO best practices to them.
Read more: Have Your Agency's Clients Considered a Local Product Kiosk? Google Has. [moz.com]
Take Inspiration from Professional Designers on Dribble
Coming up with attractive and professional designs isn't an easy job, and unlike coding, there aren't fast and easy rules you can use to ensure your success. Designing requires much more creativity and requires a je ne sais quoi skill that not everyone has. One of the best ways to ensure your designs are a cut above the rest is by taking inspiration from the best designers out there. Dribble is one of the biggest platform out there for creative-minded people. They host millions of designers around the world. This is a list of 20 talented, creative, and professional designers' portfolios that will inspire you to create really unique designs.
Read more: Top 20 Inspirational Designers Worth Following On Dribbble [qodeinteractive.com]
The Best Way to Approach Homepage SEO
Every SEO knows that the homepage is the most important page on a website, almost always. Most people land on your homepage first, it is the best place to define your brand, and it is your opportunity to set the tone for the rest of the website. That's why most search engine optimizers focus first and foremost on making sure everything about the homepage is perfect. But how effective are those common strategies that are used? Can SEOs really make a difference? Is there even such a thing as homepage SEO? This article tries to answer these questions.
Read more: Homepage SEO: Does it exist? [yoast.com]
Conclusion
This concludes this week's press review. We hope you enjoyed our selection of articles today. Most of them focused on current news stories because it has been a busy week, especially when it comes to Google.