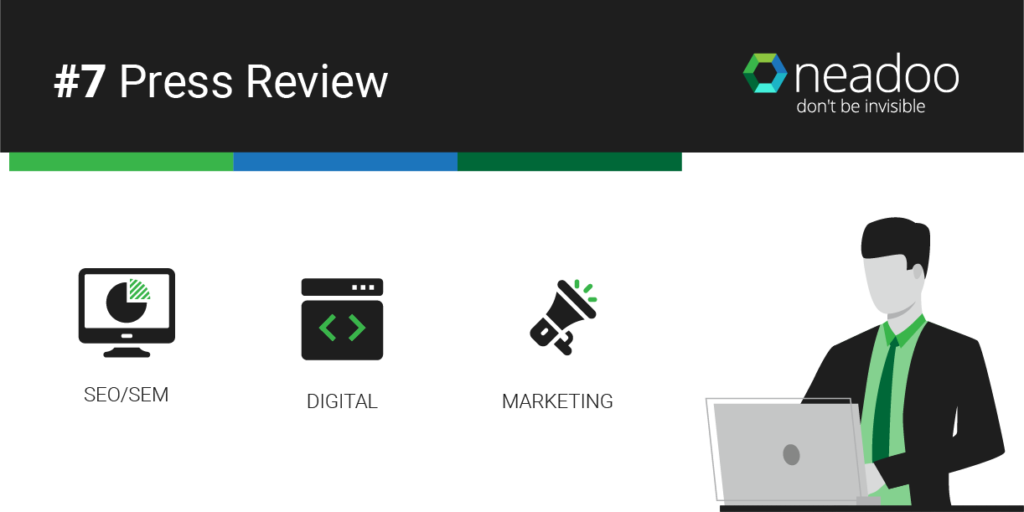 SEO Press Review #7
We are reaching mid-year, and it is a good time to analyze how effective our campaigns were during the first half of the year and see the trends at play. In the spirit of that, we just analyzed a story about Kenshoo just releasing their Q1 report analyzing what they uncovered. Interactive Advertising Bureau just released a study on the impact of ads on mobile, and, we couldn't let that go. Both are illuminating reads that make sure you're ready for the second half of this year.
1. SEOs Not Happy With Google Ads Announcements
Google seems to be pushing organic search further down in favour of more obtuse ad placement, and this, naturally, threatens SEOs' effectiveness. This is yet another blow that SEOs need to account for and come up with better and more effective to get the results they previously had with less effort.
Read more: SEOs Not Happy With Google Ads Announcements [seroundtable.com]
2. Google Shares Top 3 SEO Factors
After years of deep secrecy about the factors that go into the ranking algorithm, we're finally hearing it straight from the horse's mouth. Google recently decided to reveal the 3 biggest factors that go into deciding how pages should be ranked. They are, in order of importance, content, metadata, and performance.
Read more: Google Shares Top 3 SEO Factors [searchenginejournal.com]
3. Facebook Rolls Out Multiple Updates to its News Feed Ranking Algorithm
In an effort to appeal to end-users more, Facebook rolled out a new algorithm that prioritizes personal content – like content from sources they care about – over other kinds of content. While this means that they'll see more content from their close friends and family, this doesn't mean it'll necessarily hit marketing pages' reach. The Facebook PR team said the purpose of this update is not to limit their reach, but to show users the content they find more interesting.
Read more: Facebook rolls out multiple updates [searchenginejournal.com]
4. How to Earn Links for a Brand New Website: 20 Link Building Ideas
Link building is one of the cornerstones of a successful campaign, and this article goes through 20 simple ideas and tricks you can use to tweak your campaign to be more successful. While there aren't any big ideas and detailed tutorials in the article, it sheds light on a lot of little things you can easily improve on, and sometimes those have the biggest impact.
Read more: How to earn links for a brand new website [searchenginejournal.com]
5. Microsoft goes open source with one of its Bing algorithms
While Space Partition Tree And Graph (SPTAG) algorithm might be a name out of a corny SciFi movie, it is actually Microsoft's flagship searching method used in Bing. The algorithms enable the user to quickly search through billions of pieces of information, known as vectors, and is extremely useful for getting rapid results. Recently, Microsoft made it open source, and now, it is available to the whole world to tinker with and improve on. If you're looking for an advanced searching algorithm on vectorized data, maybe you should give it a look.
Read more: Microsoft goes open source [searchengineland.com]
6. A Summary of Google Data Studio: Updates from April 2019
If you're not familiar with the tool, Google Data Studio, released in 2016, is the premier tool to make sense of the various data and reports collected through different Google platforms. It's a great tool to show you a top-down view on your campaign and help you see the bigger trends. With Google going on a releasing spree, Google Data Studio also saw a big update – a lot of new features and bug fixes.
Read more: A Summary of Google Data Studio [searchenginewatch.com]
7. How to Build a Content Marketing Strategy in 7 Steps (That Gets Consistent Leads)
Getting a content marketing strategy is trickier than designing an ad or introducing a new product. The problem isn't that it is more difficult or requires more technical knowledge, but, rather, it requires a comprehensive strategy that you need to follow through for a long time, and it takes a while before you see a lot of results, and that's why it is harder to measure how effective is your campaign. This article is a good in-depth overview of how you go about constructing a successful campaign.
Read more: How to build a Content Marketing Strategy in 7 Steps [ahrefs.com]
8. Kenshoo Trends Report – The state of search advertising in 2019
Every year, we need to measure the effectiveness of paid ads compared to organic traffic – which one is more effective, which one brings in more revenue, and how are things changing? Answering these questions help us evaluate our strategy and always tackle problems in the most efficient manner possible. This article is important because it takes an in-depth look at how paid ads have fared over the last few months, the changes, and what this information might mean for an SEO.
Read more: Kenshoo Trends Report [searchenginewatch.com]
9. Yoast SEO 11.2 lets webmasters tailor their schema output
Yoast SEO is the most used plugin for SEO on WordPress, and it is thanks to the breadth of the features they support. It's been a valuable tool for any SEO working on a WordPress platform since 2008, and it seems that's not about to change anytime soon. With the newest update, Yoast SEO now supports structured data output known as schemas. These help search engines understand your website better, and you can leverage them to increase your organic ranking.
Read more: Yoast SEO 11.2 lets webmasters tailor their schema output [searchengineland.com]
10. Mobile, desktop search traffic split may have stabilized at roughly 60% – 40%
Interactive Advertising Bureau (IAB) found out that relatively 61% of all searches across different categories were initiated through a mobile phone, and they were responsible for 65% of all revenue generated through ads. The surprise, however, is that since Google announced that mobiles passed the 50% threshold of the total search volume, searches from mobile have only increased by 3% each year since then. That's a marked decrease compared with the growth the sector saw in the first decade of the 21st century, and it seems to be a lasting trend.
Read more: Mobile, desktop search traffic split may have stabilized [searchengineland.com]
11. Google Trips: Hotels, Flights, Weather, Things To Do & More
Google recently announced Google Trips, a one-stop shop for everything related to planning a trip – from projecting the weather, booking hotels, reserving plane tickets, and much much more. You can access all these features through the mobile app or the web, and it seems Google is pushing for it to succeed.
Read more: Google Trips [seroundtable.com]
Conclusion
The SEO community is still trying to analyze and learn about all the new tools Google released, and our press review shows that clearly. Other companies like Facebook and Microsoft announced some changes we covered, but we need to wait longer to see the full impact of their decisions.